Cambria Employee Partnership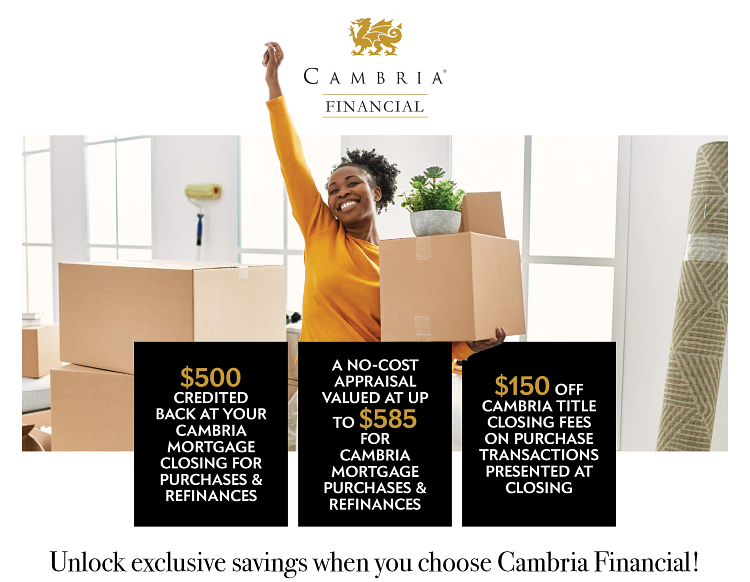 When employees choose Cambria Financial for their home financing needs they have the opportunity to save more than $1,000 at closing!
We want to ensure you are aware of all the wonderful resources that come along with being a valued Cambria employee. One of them is Cambria Financial Group which is comprised of Cambria Mortgage and Cambria Title offering convenient and innovative mortgage solutions with personal and confidential, hometown service.
We value the loyalty and dedication of our Cambria team. It's a privilege and an honor to provide the very best service, rates and fees we can. That's why we're pleased to offer employees of Cambria USA and all other Cambria affiliated companies the opportunity to save more than $1,000 at closing!
Valid on all purchase and refinance transactions, Cambria Mortgage is proud to offer employees a no-cost appraisal valued at up to $585… As well as $500 credited back at closing! Additionally, for all purchase transactions, Cambria Title is pleased to offer exclusive savings of $150 off closing fees presented at closing. Just fill out the form below to get started:
DISCLAIMER: This offer only applies to new applications and is not valid on past transactions. Employees will receive a closing cost credit on their Closing Disclosure in the amount of $500 as well as an amount equal to the cost of an appraisal up to $585 at closing. For purchase transactions, clients will also receive a discount of $150 from Cambria Title. Sell-side closings are not eligible for a Cambria Title discount. This offer is only available to clients who are active employees of Cambria, Cambria Mortgage or Cambria Title. This is not a commitment to lend. Additional restrictions and conditions may apply. Not valid with any other discount or promotion. Discounts and promotions to be provided by Cambria Financial and not by the individual Mortgage Consultant or Title Closer. Cambria Financial reserves the right to withdraw the Internal Employee Incentive Program at any time for any reason. This is for internal distribution only.