The Tool Clients, Realtors & Mortgage Lenders Are Raving About
Posted on Tuesday, July 27 2021
It's no secret that our world operates on the principle of instant, fast and seamless. To be expected… Client, realtor and lender expectations are built on the same foundation. As a company, we are proud to offer the tools and technology that allow us to meet and exceed the expectations of the modern consumer. We have what clients, realtors and lenders are raving about… The Cambria Mortgage Mobile App.
To continue to offer the absolute best experience possible as the industry rapidly changes, we launched a brand new mobile app and online loan application in the beginning of 2021. Here are just a few of the main features of the Cambria Mortgage Mobile App that have buyers and industry leaders hooked:
Flexible Loan Application
Using the Cambria Mortgage Mobile App, clients have the option to apply for a home loan in as little as five minutes from a computer or on-the-go from their phone. Clients can even begin the application on one device, close out and pick up at a later time from another device. Our loan application is simple and intuitive, meaning you only answer the questions relevant to your unique situation.
Faster Turn Times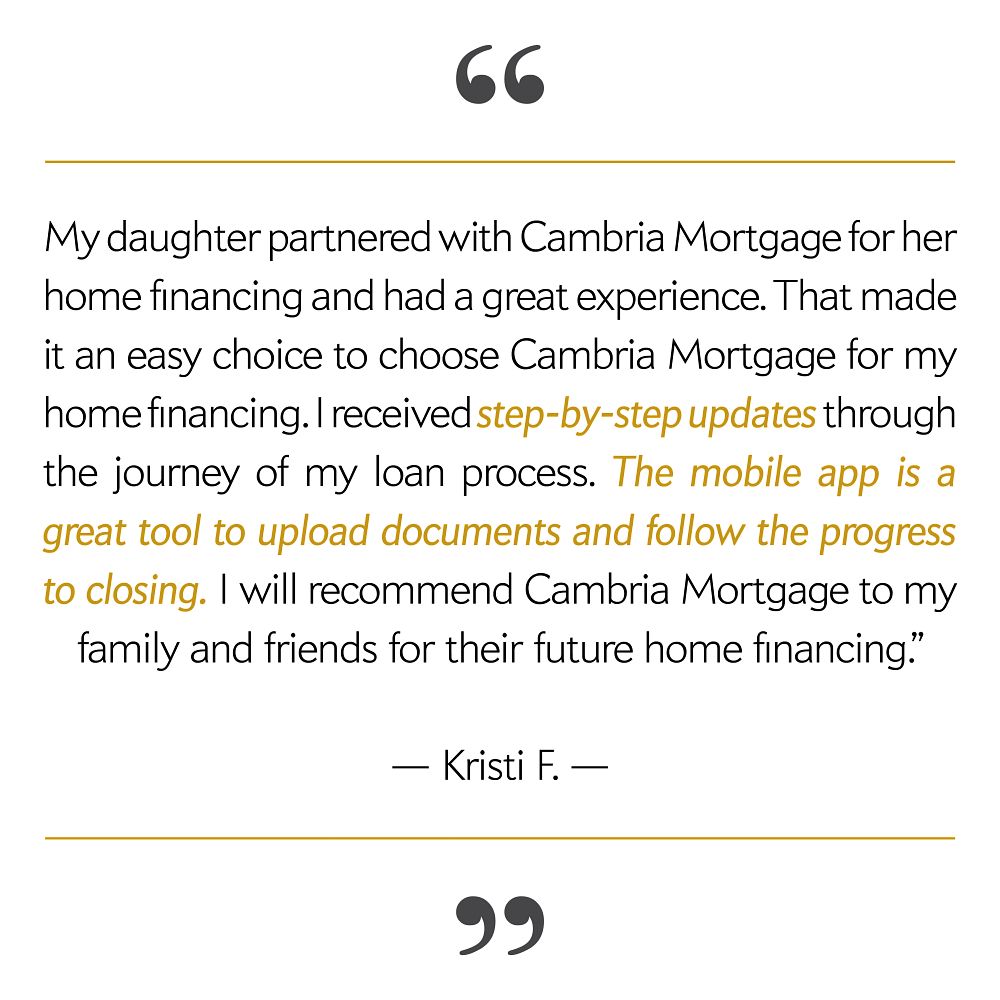 Throughout the process, clients receive real-time status updates via push notifications to stay on top of the status of their loan and outstanding tasks, which contributes to generally quicker turn-times. Mortgage Consultants can manage their loan pipelines, order credit, send pre-approvals and more right from the app so there's little to no delay in assisting clients and referral partners. In fact, because our home financing process is incredibly streamlined, we have the ability to close loans an average of 20% faster than before!*
Unified Team Effort
With the Cambria Mortgage Mobile App, our Mortgage Consultants can work more efficiently and collaboratively with all team members. The app can be co-branded and shared with Real Estate Agents and other referral partners. This gives them their own personalized platform with access to real-time loan status updates and push notifications; mortgage calculators; easy access to contact information; and the option to request pre-approval letters on-demand.
Convenient Process
With our secure and encrypted mobile app clients have loan details, tasks and next steps in the palm of their hand. To make things even more convenient, they are able to scan and upload paperwork securely with their phone's camera, making a document-heavy process feel just a bit lighter. While looking at homes and during times of general curiosity, clients can also explore different loan scenarios using the built in calculators and easily connect with their Mortgage Consultant and Real Estate Agent to discuss the possibilities.
Available for iOS and Android mobile devices, clients can download the Cambria Mortgage Mobile App by searching "Cambria Mortgage Mobile App" in the app store or by clicking this link. Realtors and referral partners are encouraged to reach out to their Mortgage Consultant of choice to get set up. They are also welcome to click here and fill out a quick partner request form.
Cambria® Mortgage™ is proud to offer flexible solutions for all homebuyers. In person or virtually, our team can take a thorough look at your unique situation and provide a seamless, stress-free home financing experience; call us today at 952-942-0110 or visit www.CambriaMortgage.com to get started.
* According to simplenexus.com/doc-scan-tool